Seven even easier ways to improve your Facebook page
I recently wrote about Seven really easy ways to improve your Facebook page and how easy it is to correct them.
Observing how small business owners run their Facebook pages more closely, I've picked up seven more silly mistakes that very few of us are immune from making.
They seemed fairly self-evident to me, but small business owners are often rushed off their feet just trying to run their business, and Social Media management can fall by the wayside!
Here are 7 more Facebook pitfalls to avoid:
1. Not allowing other people to tag your photos
There's a setting on your Facebook page that is off by default. Switching it on allows other people to tag themselves and their friends in the photos you upload to your page.
When people tag themselves or their friends in your photos, they see the photo and thus so do all their friends (who then get introduced to your page that way – called 'organic reach') – who wouldn't want that?
So make sure you switch that on!
Here's how: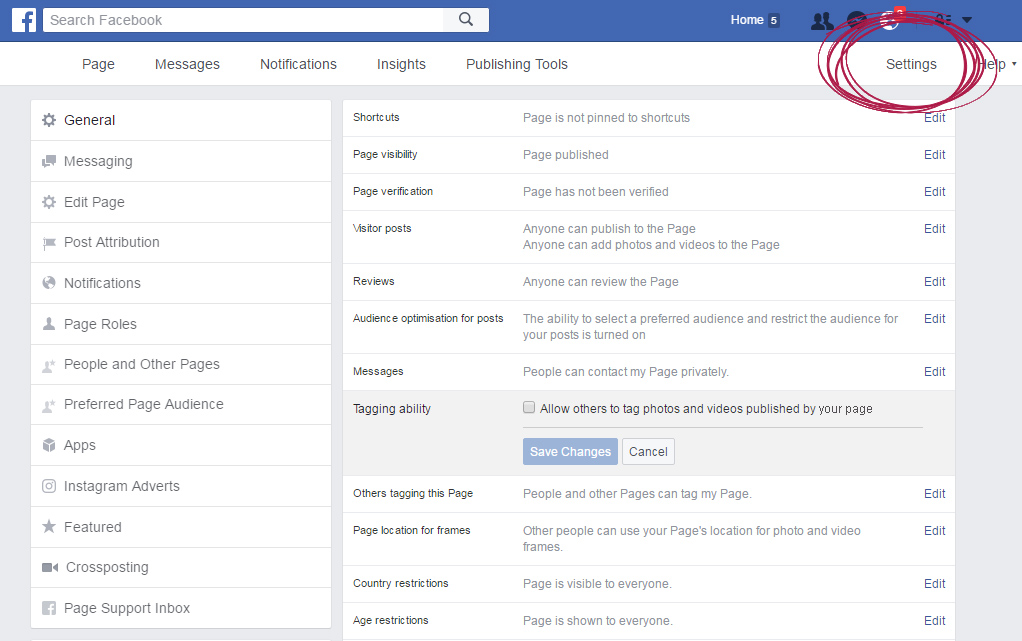 2. Not allowing other people to tag your page
There's a setting on your Facebook page that is off by default. Switching it on allows other people to tag your page in their status updates.
When people tag your page, all their friends see the a link to your page (and then get introduced to your page that way: 'organic reach') – who wouldn't want that?
So make sure you switch that on!
Here's how: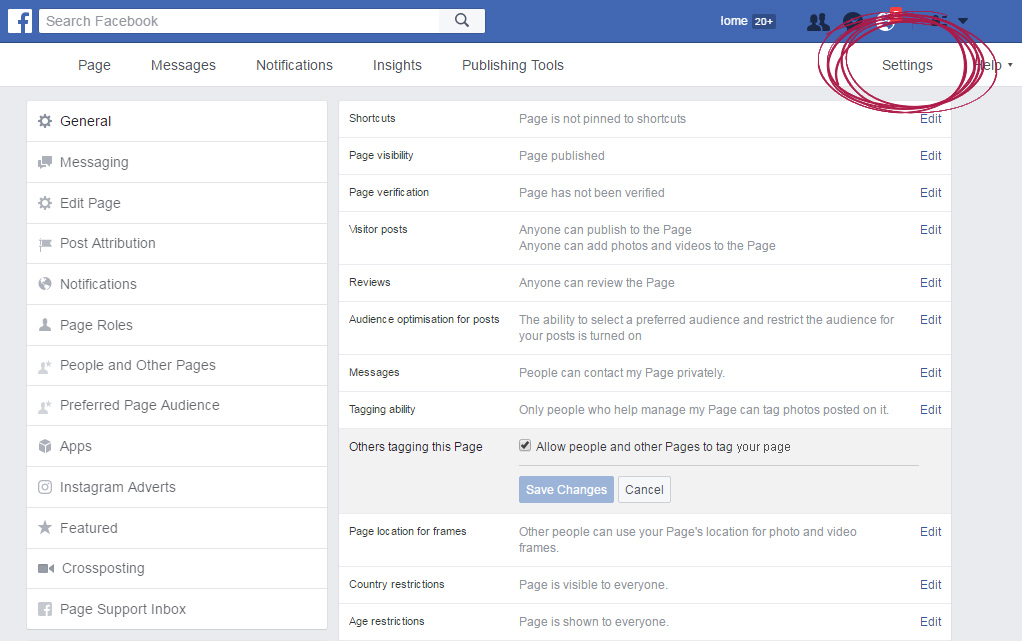 3. Duplicating posts
We know your news is important to you. But posting or sharing exactly the same post two or three times on your page (often in rapid succession or within the same day or two) with nothing else in between is just baffling for people who click on your page and scroll down through your posts (as opposed to seeing the post in their feed)
TOP TIP:
Find different ways to say the same thing instead. Use a different photo, or post a link to the event – or your blog post about it.
Try to intersperse the repetition with other unrelated or slightly related posts.
If needs be, HIDE previous duplicated posts from your timeline – they'll still come up in fans' newsfeeds … but won't show on your page timeline.
4. You ONLY post sales or service posts.
While it feels counterintuitive to post about anything else, no one likes to be sold to all the time.
Make sure you're switching things up as much as possible – let people get to know you and your team as well: Post company news and team news as well as relevant posts about your interests between all the hard sell.
Think about what social media was made for: no, it wasn't created so you can reach more customers or sell your goods!
Social media lets like minded people get together and talk about their favorite interests. If you don't follow this rule from the start, you're never going to make much of an impact.
TOP TIP:
How to fix this problem? Talk more! Talk about what's going on in your industry… what's happening in your business… the funny joke your receptionist told you this morning… reply to your fans questions…. start up hot conversation topics to get people talking!
The key is to be the cool kid at the party and not the weirdo pushing his water filters in the corner.
5. You don't tag the people and pages you're talking about
So you've had a great event or meeting or are planning an exciting collaboration – and you feel the need to write a Facebook post about it on your business page? Good!
But you don't tag  any of the people or pages you're meeting or colabbing with so they don't get a notification about the post and thus don't share your excitement across their channels … not so good 🙁
TOP TIP:
You now can @ tag people as well as other pages on your Facebook page posts!

Start typing a friend's name in your post. Tagging someone in a text post is similar to the tagging process for photos, but even quicker.
Select the friend you want to tag from the list of options.
Use the "@" symbol to tag a page or group.
Repeat as desired.
Finish your post.
6. You don't answer your Facebook messages fast enough or at all.
Facebook says you have 3 minutes to answer your messages to be considered highly responsive. If you're not sitting on Facebook ALL the time, you can't do that. But often I notice that messages aren't responded to AT ALL.
That's unforgivable! Respond to your messages – it's that simple 🙂
TOP TIP:
Set up an autoresponder – that way every message is answered immediately. You still have to follow it up, but at least there's an immediate response. You can use that to direct people to your favoured communication method, eg: "sms/email us on …. "
Here's how:
7. You expect results immediately.
Social media requires some time to grow a living page that will be an asset you.  You can obviously use things like Facebook ads to find customers right away, but the real power of social media is how it can grow and sell your goods or services on its own.  This requires that you build an interactive community though – and that does not happen overnight.  Be social often and for the long term to watch the exponential growth begin.
So if you find yourself doing one or more of these things on your Facebook page, slap yourself on the wrist and make sure you correct them!
8
Comments
comments